After missing the promised deployment date of June 21 for Team Deathmatch (TDM) mode in the India-made mobile game FAU-G, developer nCore Games recently teased that it is coming soon. Well, to our surprise, the FAU-G TDM update has finally arrived in beta on Android today, and here's everything you need to know about it.
FAU-G TDM (Team Deathmatch) Mode Update: Everything You Need To Know
nCore Games announced the launch of FAU-G's TDM mode on Twitter. While everyone expected TDM Mode to arrive as an update to the original FAU-G game, which launched earlier this year, the TDM Mode beta has been released. available as a standalone title called FAU-G: Multiplayer.
Bullets will fly when FAUG takes on his dushman in deadly team battles! Join the FAUG TDM Mode Beta and have your feedback heard! Limited spaces only!

Download now https://t.co/v9kL8PfnTC#LargestVaccineDrive #Hide@vishalgondal @akshaykumar @dayanidhimg@BharatKeVeer pic.twitter.com/ERw5fQj22T

– nCORE games (@nCore_games) June 27, 2021
That being said, let's take a quick look at all the essential details of FAU-G's multiplayer TDM mode:
How to install and play FAU-G TDM mode on your Android phone?
Method 1: Using the Play Store
If you want to try the FAU-G TDM update, just follow the steps below:
1. Go to this link on your Android device to download the game FAU-G: Multiplayer in Early Access.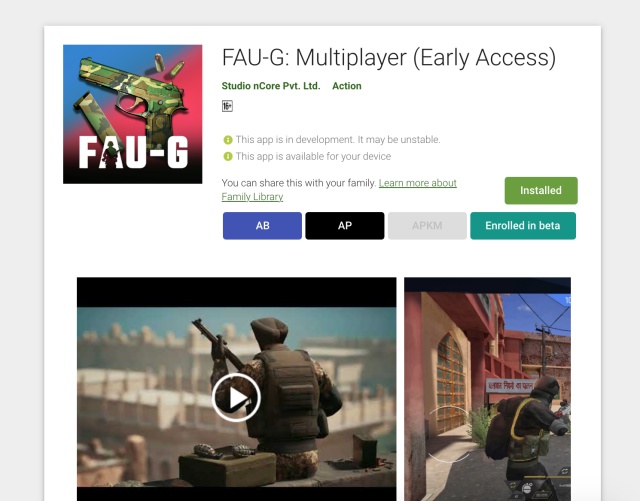 2. You don't need to register to be a tester or anything. Just press "Install" and start playing the game.
Method 2: Using APK + OBB Files
In its official tweet, nCore Games says that there are only limited slots available in the beta of FAU-G TDM. So if you were unable to participate in the beta test, here is a workaround to try FAU-G Multiplayer on your Android device right now.
1. Download the APK and OBB files of TDM FAU-G mode from this Google Drive link.
2. Once downloaded, open the Android file manager application of your choice and extract the ZIP files. Then, install FAU-G multiplayer APK on your phone. But open the game right away. Press the "Done" button and go to the next step.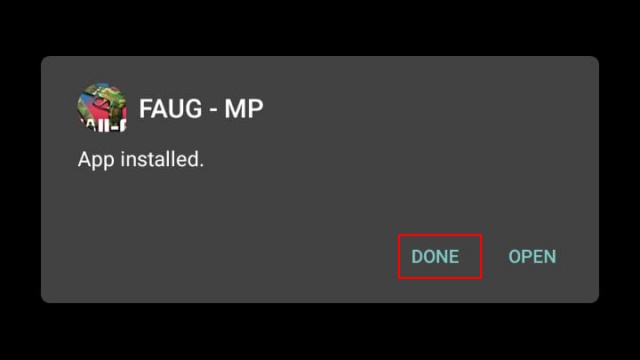 3. Now copy the OBB file and move it to the / Android / obb folder on your Android phone.
4. If there is not already a "com.coregames.faugmp" folder in this directory, you will need to create a folder with that name manually. Then paste the OBB file into it.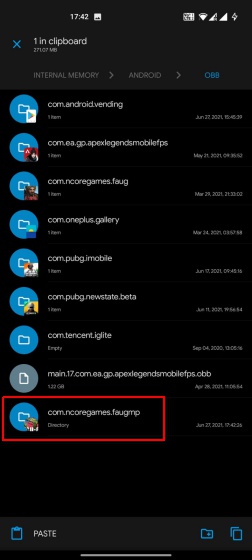 To note: Make sure the OBB file name is "main.21753.com.ncoregames.faugmp" if you downloaded the files from another source. If not, rename it, or FAU-G Team Deathmatch mode will not load.
5. Next, long press the game icon in the app drawer and tap the "i" icon to enter the app information settings page. Here be sure to give FAU-G: Multiplayer all required permissions before opening the game.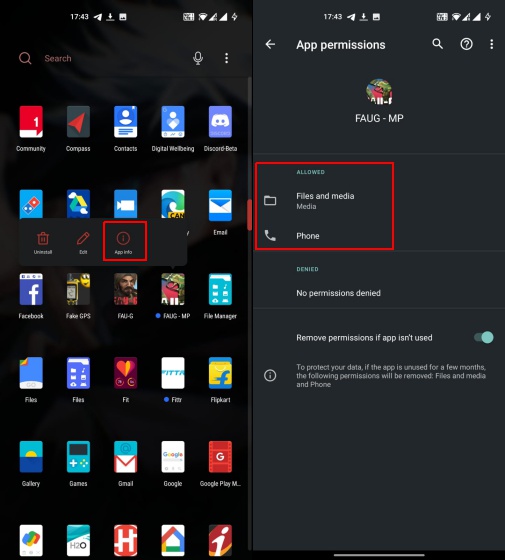 6. That's it. Launch the game and enjoy the FAU-G TDM Mode Beta Update on any of your Android phones.
What is the download size of FAU-G: Multiplayer TDM Mode?
The FAU-G TDM update will not take up much storage space on your phone. the FAU-G TDM mode download size is approximately 300MB from the Play Store. It takes up around 430MB of storage space on your device. So yes, you can also download and install it easily on most budget Android phones.
First Impressions of FAU-G TDM Mode: Gameplay, Gear, and Maps
Coming to the most important section of this article, how is the gameplay of FAU-G TDM going? Is FAU-G TDM comparable to TDM mode of Call of Duty Mobile or PUBG Mobile (Battlegrounds Mobile India)? Well, the short and sweet answer to this question is NO.
The beta version of FAU-G TDM Multiplayer is rudimentary and does not meet the expectations of the growing number of Indian mobile gamers. The Team Deathmatch mode here is nothing like the cinematic trailer shared by nCore Games few months ago.
FAU-G TDM Mode – Bazaar Map
When you fire up the game, you're greeted with a first look at the one and only map available in the FAU-G TDM mode beta test. It's called Bazaar, and as the developers told IGN India, this map is reminiscent of the markets of Jaipur and Udaipur.
Now, Bazaar is a fairly large map with multiple entry and exit points on both sides. It will bring back childhood memories, reminding you of the days of Counter-Strike. There are also a number of vantage points and sufficient coverage around the map, and I have no qualms there.
FAU-G TDM Mode – Weapons and Combat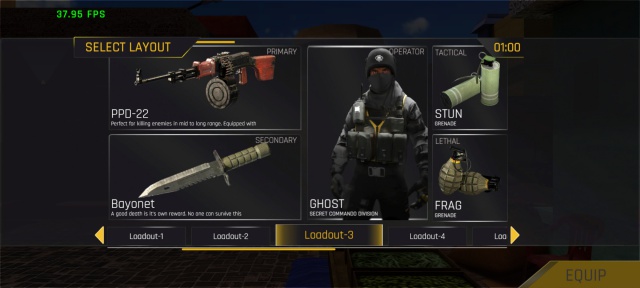 In FAU-G Team Deathmatch mode, you have the option to choose a specific loadout at the start of each turn. You cannot buy weapons in the middle of the game. Each equipment consists of a primary weapon, a secondary weapon and two grenades (one tactical and the other deadly).
You can change weapon loadouts from the home screen to suit your playstyle. The developer offers you six preset loadouts, including one with assault rifle, SMG, sniper rifle, etc. Here's the full list of weapons (pistols and grenades) you get in the FAU-G TDM mode update:
Main weapons
AK-72 (assault rifle)
PPD-22 (LMG)
MG9 (SMG)
PSG-24 (Shotgun)
SVS 63 (sniper)
BAR-42 (sniper rifle)
Secondary weapons
Disposable
Deafening grenade
Frag Grenade
FAU-G TDM mode: gameplay
Next, let's talk about what the FAU-G TDM mode gameplay looks like. Once you hit the "Play" button and engage in a Team Deathmatch, you join four other players in a 5v5 battle on Bazaar. The objective is to take down the enemies and get 40 kills within the allotted time. The team that gets 40 kills or has the most kills in 10 minutes wins the match.
Before the start of the fight, you can choose your weapon equipment. Don't worry if you pick the wrong one or if you're uncomfortable with it halfway through the game, you can choose a different loadout when an enemy shoots you down and you respawn. Moreover, just like its more popular counterparts, PUBG Mobile and COD Mobile, gamers are invulnerable for a brief period after respawning (you are enveloped in a green glow). It's pretty standard.
This slideshow requires JavaScript.
The game also contains some quips in Hindi, such as "The team of Pehle prahar aapki ke naam" (your team gets the first kill), "Double Dhamaka" (when you get two consecutive eliminations), and more.
Speaking of controls and the shooter, there is nothing new here. You have standard onscreen controls, but it's disappointing that they aren't customizable. Fire is set to automatic by default, but you can choose to have a manual fire button on the screen. Speaking of the shooter, it's not as smooth and polished like other mobile shooting games available in the market. Instead, it's really basic and doesn't look very satisfying.
You can spot enemies marked red from a distance, but taking them down might not be an easy task. I played a few odd matches on my OnePlus Nord (in FAU-G TDM mode at around 60-70 fps at medium graphics settings) with the AK-42 assault rifle and SVS 63 to get a feel of close and ranged combat. While weapon accuracy seemed to me at times, the bayonet melee weapon has become my favorite companion for killing bots at spawn points. Yeah, that was my highlight of FAU-G TDM today.
Yes, the game is full of bots right now. They work in two ways: either they see you from a distance and shoot you in the head for an instant kill, or they respawn and congregate at fixed spawn points on the map. You can easily jump between these spawn points to kill and increase your lead to victory.
You can watch a short gameplay video for FAU-G TDM mode below:
Also, since FAU-G TDM is a multiplayer game, nCore Games should have offered the option to invite friends and play as a team. The very essence of a multiplayer game is missing from this closed beta. But we hope the developers take this as a return and introduce the possibility of adding friends, invite them to your team and eliminate enemies together.
FAU-G TDM multiplayer beta: disappointing and requiring a lot of polish!
So yes, that's about all you need to know about the new FAU-G TDM mode which launched in India today. The gameplay is disappointing and falls short of the expectations of mobile gamers nationwide. It takes a lot of work and development, including several important features like the ability to invite friends to your team, weapon attachments, and more. The game is currently in beta and nCore Games is seeking feedback from testers, so we can expect FAU-G TDM to be in better shape in a few months. Do you agree with us? What is your opinion on updating the FAU-G TDM mode? Share your thoughts in the comments section below.